The devastation that hit QLD with in the last week was unfathomable. As fellow Australians I think we would all like to do something to help out those families who have lost everything. There are so many ways we can all do our little bit.
The other day the kids and I sorted through our toys and books and got together boot load of toys to donate to the
QLD toy appeal
.
We plan to put together a
shoe box of love
and drop that off at the local collection point.
The crafting community from Australia wide have banded together and there are auctions and raffles being run on blogs across the country with all the proceeds going to the
Premiers flood relief appeal
.
Toni from MIP, has co-ordinated a massive group of crafters and is hosting a fantastic fundraiser.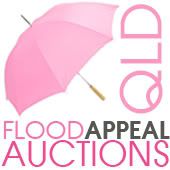 If you would like to check out some of the items on offer there is a master list on Tonis blog -
Make it perfect
. Some items are up for auction to the highest bidder, and there are many that are being run on a raffle system - you make a $5 (some are more) donation direct to the relief fund and then leave your receipt number in the comments section to enter. It is run on an honesty system, some require an emailed copy of your donation receipt if you win. There are new auctions being added each day!
Ive also put my name down to make some quilt blocks for the
quilts for Queensland
project, being organised by Corrie from
retro mummy
They are only little things in the grand scheme of things, but every little bit helps!